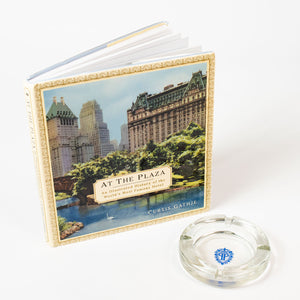 Rare vintage ashtray from New York's iconic Plaza Hotel
Plus a First Edition copy of Eve Brown's "The Plaza Cookbook"
Charming glass ashtray from the golden age of glamorous smoking
The remarkable book takes readers inside New York's famous hotel
Ashtray measures 4 1/2-inches in diameter; book includes 340 pages
Handle with Care, and Pass Down to the Next Generation.
An emerald-topped, eighteen-story-tall wedding cake set down upon the shore of a sea of green trees, The Plaza Hotel is one of the Crown Jewels of New York City. In her long association with royalty and aristocracy, the Plaza never been anything but the First Lady of hotels. Presidents and writers, touring statesmen and artists in New York have always seen the Plaza as their natural home. A glorious symbol of the Jazz Age, The Plaza has appeared in everything from F. Scott Fitzgerald's "The Great Gatsby" to Kay Thompson's beloved series of "Eloise" children's books, which chronicle the exploits of a precocious Plaza-dwelling eight-year-old.
Once icons of hospitality and glamour, ashtrays are part of Americana that now belongs to the past. Offering a treasured Plaza Hotel ashtray from the golden age of glamorous smoking, now out of use along with cigarettes, but desirable for its connection to the culture of New York City in the twentieth century.
INCLUDES a previously-owned copy of Eve Brown's "The Plaza Cookbook." You can re-create for yourself the favorites and traditions of the millions who have loved her, the food that has been fit for kings and princes. Feel the invisible hoverings of liveried footman and matchless waiters, "slip an invisible mink from your shoulders," and dine.  The contents include Hors d'Oeuvres; Soups; Salads; Dressings; Sauces; Eggs; Beef; Veal; Lamb; Game; Pork; Poultry; Fish; Shellfish and Seafood; Vegetables; Stuffings; Pasta, Risotto and Pilaff; Desserts; Coffees Around the World.